Bentley Mulsanne Car Hire in London & Essex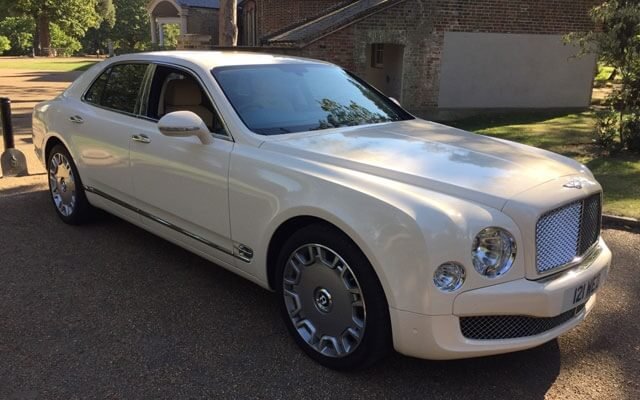 LA Stretch Limos presents its magnificent Bentley Mulsanne car for hire in London and Essex. This captivating vehicle offers an unprecedented on-road experience of performance and luxury, making it a perennially popular choice with our customer base.
Our Bentley Mulsanne is built with the intricacy and craftsmanship that you'd come to expect from such a renowned car manufacturer, with an extraordinary rear-seat experience that perfectly encapsulates the luxury and prestige of Bentley cars. The Bentley Mulsanne's suspension is continually changeable, with four suspension settings to choose from. This will be set to comfort by your chauffeur, which is calibrated for a comfortable ride.
The interior of the Bentley Mulsanne is gleaming with polished stainless steel bright ware and its dashboard contains an 8-inch infotainment screen with navigation assistance, smooth audio, rear camera view and many other functions. The magnificently-upholstered seats can be adjusted in numerous directions to make entry and exit incredibly comfortable, while each person in the car has control over their own air conditioning system. The interior of the Bentley takes more than 170 man-hours to create, according to Bentley.
Talk to us today about Bentley Mulsanne Hire
The Bentley Mulsanne is an exquisite car and we highly recommend hiring one for special occasions such as weddings, graduations and hen nights. Show up to any of those in a Bentley Mulsanne and you can be sure to grab people's attention!
If you would love the experience of travelling in extreme comfort in an aesthetically outstanding car (really, who wouldn't?), then talk to LA Stretch Limos today about hiring our Bentley Mulsanne for a unique on-road experience.