There are certain items that effortlessly convey the image of luxury, and amongst them is ownership of a Rolls-Royce vehicle. That particular manufacturer is routinely the first that comes to mind when someone mentions 'luxury cars', and when you discover the painstaking effort that goes into making each Rolls-Royce car, it's no wonder.
Of course, there's only one rather substantial stumbling block: the price of a Rolls-Royce is prohibitive and it's a product that only a select few wealthy individuals will experience first-hand. Have you ever wondered exactly how expensive a Rolls-Royce is? Keep reading to find the answer to this, as well as many other interesting facts about Rolls-Royce.
How much is a Rolls-Royce?
If you wish to buy a new, entry-level Rolls-Royce car, it is likely to cost you in the region of £190,000. This is just for the Ghost, which is considered a 'basic' model by Rolls-Royce standards. The rest of their portfolio is more expensive still.
A Wraith is likely to cost around £230,000, a Dawn will probably set you back a little over £250,000 and you'll need roughly £315,000 to purchase a Phantom. For those fortunate enough to have plenty of loose change at their disposal, the Phantom Drophead Coupe, the elite Rolls-Royce machine, comes with a price tag of £370,000.
If these prices seem scandalously exorbitant for a car, keep reading to find out how a Rolls-Royce is no ordinary road vehicle. When you see the craftsmanship and precision that's involved in their manufacture, you'll understand why their price range is in a different world to your typical family sedan.
Then again, if sampling the experience of a Rolls-Royce is on your bucket list but you don't think you'll ever be able to afford one, you could always hire a Rolls-Royce for the special occasions in your life and forever have the satisfaction of riding in this truly extraordinary vehicle.
Rolls-Royce models
Ghost

Branded as 'effortless simplicity', the Ghost is Rolls-Royce's entry level model and yet is still one of the most advanced cars to have ever been manufactured. It combines an authentic essence of simplicity with an unmistakeable aura of luxury and is technologically superb. It has a very powerful engine which is as vocally soft as a kitten's purr and as well as being expertly manufactured internally, it also boasts a classy yet pure exterior. The Ghost is elegant and understated, and owning one will convey similar qualities about you. After that, it's simply a matter of deciding to drive it yourself or enjoy the privilege of being driven in one.
Wraith

Branded as 'power, style, drama', the Wraith's design is a throwback to European GT motor cars of the 1930s and conveys the image of adventure. If power is the quality you seek above all others in a vehicle, then you'll be infatuated with this driving machine. Its 6.6 litre twin-turbo V12 engine oozes optimum performance, while its highly advanced technological specs include automatic gear selection and predictive GPS data. This uncompromising vehicle is ideal for those who enjoy a dynamic driving experience.
Dawn

Branded as 'strikingly seductive', the Dawn places emphasis on style and comfort. Its beautiful aesthetics will make you yearn to try one from the moment you set eyes on it. It comes with a convertible roof which can be withdrawn to enjoy an exquisite driving experience on open roads in sunny weather. Its luxurious leather upholstery serves to add to the pure pleasure of experiencing this car, one which you will want to drive again and again.
Phantom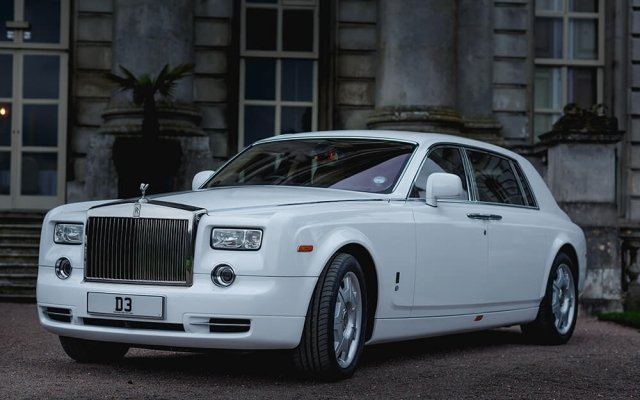 Branded as 'unmistakably Rolls-Royce', the Phantom is the company's flagship model and strives to be the ultimate in motoring perfection. It is also intended to be created to a customer's minute specifications, meaning that Phantoms are personally commissioned vehicles rather than a stock design. When it comes to this model, the manufacturers take on board the advice of Sir Henry Royce: "Strive for perfection in everything you do. Take the best that exists and make it better. When it doesn't exist, design it."
The history of Rolls-Royce
Foundation and early days
In 1904, engineer Henry Royce and motor car dealer Charles Rolls joined forces to create the Rolls-Royce motor company. Three years later, the first Silver Ghost was unveiled, marking the beginning of a brand that would come to be associated with luxury motoring for more than a century. Critics called it 'the best car in the world' after it effortlessly completed the gruelling Alpine Trial. From 1911, Rolls-Royce cars were made even more distinguishable by the introduction of the world famous 'Spirit of Ecstasy' badge.
Expansion to air and sea
In the 1920s, the company expanded into the area of aviation engineering. Its R engine (later rebranded the Merlin Engine) came to be used in both the Spitfire and the Hurricane. In the 1930s, Rolls-Royce set world records on both land and sea, although the latter would be associated with tragedy as, within a few minutes of setting the record, seafarer Sir Henry Segrave was killed when he collided with a submerged tree stump. Also that decade, Rolls-Royce launched its first V12-engined model, the Phantom III.
A new customer base
Rolls-Royce acquired a very special customer in 1950, when Queen Elizabeth commissioned the company to provide transportation for the Royal Family in the form of the first Phantom IV, a car of such exclusivity that only 18 were ever made. The brand grew even more prominent during the 1960s as celebrated actors and rock stars, including The Beatles' John Lennon during the height of the band's popularity, chose to express their wealth through ownership of a Rolls-Royce.
All change for the company
In 1971, the company was nationalised as Rolls-Royce Limited and two years later it seceded from its parent company to be known as Rolls-Royce Motors Limited. It was privatised by Vickers during the 1980s and the new Rolls-Royce Motor Cars Limited floated on the London Stock Exchange in 1985.
Into the 21st century
In 1998, the BMW Group acquired the rights to produce Rolls-Royce cars and it moved to a purpose-built manufacturing facility in Goodwood five years later, where it has remained ever since. It is projected that the first Rolls-Royce SUVs will be launched by 2018.
Rolls-Royce sales worldwide (2005-2015)
The substantial spike in Rolls-Royce sales in 2010 from previous years (2,711 versus 1,002 in 2009, a 171% increase in just one year) is largely attributed to the introduction of the Ghost that year, and the large-scale demand it brought about, in addition to exceptionally strong regional sales growth in Asia Pacific, India and the Middle East.
Why is a Rolls-Royce car so special?
If you've ever wondered why Rolls-Royce cars are held in such high esteem and cost substantially more than your typical family vehicle, here's a few reasons why:
The radiator grille at the front of a Rolls-Royce is made entirely from instinctive guesswork; no measuring instruments are used. Also, no two grilles are exactly identical.
The dash is simple yet classy, containing three large dials for speed, fuel and power reserve.
Its technological features include a head-up display, night vision cameras, a rotary-controlled satnav system and lane warning alert.
The back seats come with built-in drinks tables and the TVs are activated by pinch rather than touchscreen, as the company did not want monitors that would become spoiled by fingerprints.
The stylish dashboard watch is entirely the creation of the company's own engineers, as Rolls-Royce believed they would do a better job than specialist watchmakers.
It has its own Wi-Fi hotspot.
All of the seats are vented and are able to provide hot or cold air underneath you, depending on whichever you please.
The doors and boot open electronically.
Its BMW engine is perhaps the most advanced mechanical component in automotive history.
From a driving perspective, it gathers power as seamlessly as a jet engine and handles cornering so effortlessly that body roll is practically eliminated.
It selects gears automatically based on GPS data and your driving style.
This review of the Rolls-Royce Phantom vividly shows just why a Rolls-Royce is such a uniquely special vehicle in which to travel.
Interesting facts about Rolls-Royce
The first ever Rolls-Royce car, the Silver Ghost, ran non-stop for a record-breaking 24,000 kilometres.
The first 10hp Rolls-Royce sold for £395. Today it is worth more than £250,000.
Around 65% of all Rolls-Royce cars ever built are still operational today.
The oldest known Rolls-Royce still on the road today was built in 1904.
A person wishing to buy a Rolls-Royce Phantom can choose from any of 44,000 colours.
In the two months that it takes to manufacture a Phantom, its builders weld almost 200 aluminium sections and 300 alloy parts by hand.
It would take one manufacturing operative one day to build a radiator grille, and a further five hours to polish it for the desired finish.
The Phantom's V12 engine can go from 0 to 100 kph in 5.9 seconds.
If you were to lay out flat all of the upholstery in a Phantom, it would cover 75 square metres.
The cooling capacity of the Silver Spirit's air conditioning system is equal to that of 30 domestic refrigerators.
The hydraulic tappets on Rolls-Royce cars are given a natural finish of a 16-millionth of an inch.
In Rolls-Royce factories, people are usually addressed by their initials, a practice owing to Sir Henry Royce being referred to as 'R' during his time at the factory.
Live the Rolls-Royce experience – contact L.A. Stretch Limos today
If you would like the unforgettable experience of travelling in a luxury Rolls-Royce car, we can arrange that for you. Simply phone us on 0203 553 7243 or
fill out a contact form. Take it from us – there is no on-road experience quite like that offered by a Rolls-Royce!